INTRODUCING WINGITS
OFFICIALLY THE
WORLD'S STRONGEST
PLASTERBOARD WALL FIXINGS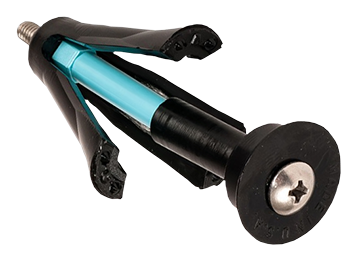 WINGITS® PLASTERBOARD FIXINGS
Invented and patented in the USA over 15 years ago, WINGITS® plasterboard fixings are the world's strongest fastener.
From Plasma TVs and heavy mirrors to bathroom grab rails and shower seats, WINGITS® will ensure that whatever you need to fix to a cavity wall is safely installed – and stays that way.
The cavity wall fixings the professionals rely on
Specified by leading hotel chains, healthcare providers and government contractors and used in their millions by plumbers, builders and homeowners across the States, WINGITS® are a simple to-use ultra dependable cavity wall fixing. Now available in the UK for the first time, take a look at what you've been missing.
How WINGITS® plasterboard fixings work
View the installation video to see how easy WINGITS® plasterboard fixings are to use.
Delivered in any quantities
We want everyone in the UK to experience the safety, security and ease of WINGITS® so we'll deliver any quantity from a single fixing to hundreds or more, anywhere in the UK. Simply select the WINGITS® product for your installation(s) and place your order online today.
WITH WINGITS YOU ENJOY:
• Supported loads up to 800lbs – 362kg
• Easy to install in one visit
• No special tools required
• 100% waterproof
• Never loosens